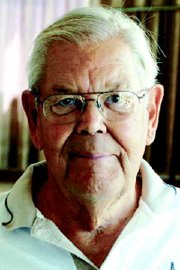 When Bruce Mercer returned to a small town in Oregon in 1948, after serving as an engineer in Seattle, he learned that the Boy Scout program in that community had been discontinued due to lack of leadership and jumped into action.
With no children of his own, he quickly became Scout Leader to 12 young boys. "I figured I'd better get in there and do something," he said.
Mercer's wife, Jerry Dean, explained that though the war had ended, men who fought in World War II had been given scholarship money and were off at college. "In the 1950s, the men returned from college and there was more help," she said.
Mercer had already attained the rank of Star Scout in his youth. When he returned to scouting as an adult in the late 1940s he didn't retire for another 50-or-so years.
Over the course of time, Mercer served as a commissioner in the Mid-Columbia District, which led to becoming a member of the Blue Mountain Council Board.
That service earned Mercer the Silver Beaver award in 1963, which is given on behalf of the council. "It's an award the local council can present to their hard workers," explained Jerry Dean. By 1968, he was selected to serve on the regional council as a representative for five states.
It's that dedication to the program that has earned Mercer the Good Scout Honoree award, which he will be given at the Scouting Patriotic Breakfast on Thursday, Sept. 13, at 7 a.m. at the Sunnyside Community Center.
By 1951, Jerry Dean and Bruce had a son, Lin, who, as soon as he became of scouting age, joined the Boy Scouts. Lin later attained the rank of Eagle Scout.
Mercer moved to the Sunnyside area in 1969 and quickly became a member of the Fort Simcoe Council in Yakima. Within five years, he became their president and after two terms, served on the president's council.
In 1973, Mercer was awarded the prestigious Silver Antelope award, which is a regional honor covering the areas of the Rocky Mountains and including Alaska.
"It's an honor and it is a surprise, you never know it's coming," said Mercer. "The only higher honor than (the Silver Beaver and Silver Antelope) is the Silver Buffalo, which is national recognition."
Mercer, who retired from his Boy Scout volunteerism in the mid 1990s, will be honored again next Thursday and the community is more than welcome to attend.
Said Frank Villanueva, Executive for the Boy Scouts' Chief Kamiakin District, "I've known Bruce for 30 years and he has been a friend that deals with the highest integrity.
"You know exactly what's on his mind and when he commits to something, you know you can trust him."
Mercer said that the Boy Scouts of America, as an organization, is directly opposed to what gangs are all about. He said not only do boys bond with one another within their troop, but also with troop leaders and community leaders who help them earn badges. He said it's a good, solid, character building program and he encourages local youth to get involved in it.
The breakfast is free and will also feature guest speaker Chance Belton, who has a history with the Boy Scouts and the Marine Corps. He is currently serving as a police officer in Yakima.
Those interested in attending the breakfast are encouraged to RSVP by Tuesday, Sept. 11, by calling 830-5665 or by emailing to jvillanu@bsamail.org.