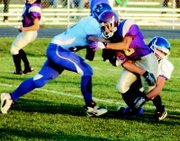 A climate change independent study recently released by the Northwest Power and Conservation Council is helping to make the case for the Black Rock reservoir project, according to Yakima Basin Storage Alliance Board Chair Sid Morrison.
The report indicates possible effects of climate change on the Columbia River. YBSA is working toward the goal of creating the reservoir, which would store water drawn from the Columbia River.
A summary of the report says that warmer temperatures will result in more precipitation falling as rain rather than snow, snow pack will diminish, peak river flows will increase and water temperatures will continue to rise.
Morrison said that it's the first study that implicates a potential for flooding.
Morrison said there would be a surplus of water in the winter. He said that because of warmer winter months, there won't be as much demand for electrical energy. "That's when we'll be able to have a lot of surplus water, but not a lot of market."
He said that in the summer, there would be less water available and a greater demand for electricity.
When it comes to the current reservoirs in use, Morrison said that in the Cascade Mountains, "Lower elevation snow packs just aren't going to last. We've counted on the flows that historically have existed."
In order for there to be adequate water for irrigation purposes, Morrison said that the current reservoirs have to re-fill three times.
Morrison said that should Black Rock become a reality, "That water in that reservoir would be absolute gold through short water summers."
Morrison said the theory is to draw water from the Columbia and use it to irrigate in the Sunnyside and Roza irrigation districts, while using current reservoir waters to flow into the Yakima River for fish management.
Morrison said that the report indicates there would be surplus water to take out of the Columbia River to prevent flooding due to the climate change.
He said that, should the Columbia River flows become too low, then water could be fed into it from the Yakima River.