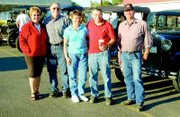 Lower Valley motorists could be excused for doing a double-take, or two, this past weekend as about a dozen vintage Model T vehicles rolled through the area.
They were part of the Three Rivers Model T Ford Club, which includes members from the Yakima Valley, as well as the Tri-Cities and Oregon.
The group started its adventures this past weekend at the Burger Ranch on Friday night, then on Saturday visited downtown Sunnyside for a vintage picture with their vintage rigs. They proceeded from there to the Dairy Fair.
Marlene Coder of Grandview is one of the Model T club members, and she said the club plans one activity each month.
"It's a totally different feeling traveling in one of these," Coder said, gesturing to a line of Model Ts. She said it's a slower pace of life, a chance to take the time to enjoy life and the open road.