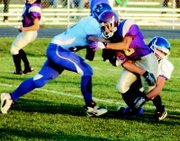 MABTON - The Mabton High School football team made things interesting for a half against Warden before falling 34-6 last Friday.
The host Vikings had only 17 players eligible for the contest. Despite being shorthanded, the Vikings trailed just 14-0 at the half on two Warden touchdowns in less than a minute late in the first quarter.
The Cougars first struck on a 13-yard scamper by quarterback Scott Phillips. After the successful point after kick, Warden led 7-0 with 3:24 to play in the opening stanza. Warden's scoring drive went 57 yards on five running plays.
Warden recovered a Viking fumble two plays later and cashed in on a 35-yard halfback pass to go up 14-0 at the 2:18 mark of the first quarter.
Mabton's defense held for the rest of the half. On offense the Vikings showed signs of life, but could not take advantage of two forays into Warden's territory.
Mabton Coach John Durham praised his defense in shutting down the Warden run game for the rest of the first half.
Durham noted the Cougars initially ran to the left to avoid Mabton's all-league athlete Eli Perez. "We started moving Eli to different sides of the field," Durham said of Mabton's defensive adjustments. Durham also noted that his young line matured as the game progressed. "We have a lot of young kids on the defensive line and it's a credit to the way they're learning to play the game."
But Mabton's 14-0 deficit at the half soon grew in the third quarter as Warden put the game out of reach with two touchdowns. The Cougars found paydirt with a 12-yard run and then put the game away for good by returning a Mabton fumble 43 yards for a score. "That one really hurt us," Durham said of the miscue.
Warden scored once more in the fourth quarter. Mabton posted its only score on a two-yard touchdown run by Perez.
Perez had 17 carries for 88 yards rushing, and teammate Andy Rivera also found running room behind the Mabton line.
The Vikings' plans to install a short passing game is still in the learning phase, as quarterbacks Craig Osborne and Josh Partida combined for 4-of-14 passing for 23 yards and two interceptions.
"There are some things we have to iron out with our passing lanes," Durham said. "We have to pass enough to keep the defenses honest."
Durham singled out his squad's special teams play and praised Bickleton receiver Cody Loomis, who caught two passes.
Things don't get easier for Mabton (0-1) this Friday when it travels for a non-league tilt at Kiona-Benton. "They're 2-0 and put a lot of points on the board," Durham observed of Ki-Be. "They probably lead the league (SCAC West and East combined) in passing."