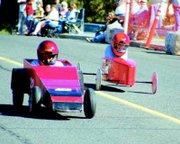 GRANDVIEW - An estimated 16 competitors turned out for the annual Grandview Soap Box Derby, held last Saturday on the city's Euclid Avenue hill.
The Hollmeyer family once again dominated the competition, as Jack Hollmeyer won the corporate division for Hollmeyer Farms.
Hollmeyer and wife Sheri again dueled in the adult division, with Sheri coming out on top followed by Jack in second place. It was a role reversal from last year, when Jack finished first, followed by Sheri.
Sherry Boob earned third place honors in the adult division.
The Hollmeyer's granddaughter, Kendra Hollmeyer, took home first place in the youth-green division, followed by Marissa Boob and Shyanne Trujillo in second and third places, respectively.
Tommy Van Dyke overcame brake line troubles to take first place honors in the youth-red division. He was followed by Elias Torres in second and Erik Van Dyke in third place.
Of course, the only problem with racing downhill is that the cars have to be pulled back up the hill for another run. The Grandview boys basketball team again provided the muscle power again this year in bringing the cars back up.