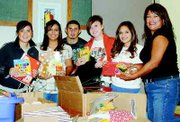 When students in Sunnyside High School's leadership class learned that there were elementary children in the district that didn't want to come to school due to lack of basic school supplies, they sprung into action.
The small group of students, Elvira Chiprez, Celeste Salinas, Daniel Alvarez, Samantha Pearson, Alejandra Bobadilla and Judith Licona, planned the school supplies drive in a matter of 30 minutes and launched it at a home football game on a Friday night, offering a free hot dog and soda in exchange for items that could be used in school. The following Monday, they called on fellow Sunnyside High School students, challenging all third-period classrooms to compete to see who could bring in the most school supplies.
All told, about nine boxes packed with pencils, crayons, papers and other school supplies were collected.
The winning class, Spencer Martin's third period students, were all treated to ice cream for their efforts.
According to leadership advisor Dave Martinez, the goal is for students in the leadership class to have a new community service project every couple of weeks. "The mission is to bridge the gap between the school and the community," he said. "We want people to call the high school 'our' school, not 'that' school."
As for the prompt gathering of school supplies, Bobadilla said, "They need this right now, it would be pointless to give this to them halfway through the (school) year."
Readiness to Learn Case Manager Suzi Carpino's task now is to alert elementary schools to the fact that the supplies exist, so they can begin working on getting them to young students.