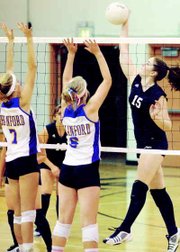 The Sunnyside girls volleyball team ran into one of the best teams in the CBL Tuesday night, losing to Hanford in three games, 25-14, 25-12 and 25-23.
Sunnyside Coach Mhike Dumo said his team started slow, giving away too many points early in the game before the Lady Grizzlies could score any of their own.
"We just don't start strong," he said.
In the first two games Dumo said the Falcons would score three or four points in a row then Sunnyside would get a sideout. Hanford would get the ball back immediately, and then go on another run of three or four points. Before the Grizzlies could recover they were down by eight or nine points, just too much to come back on a team like Hanford.
"They're still trying to adjust to the coaching personal," he said. "We made some mistakes but you have to give it to Hanford. They're a really good team."
In the third game things started to click for Sunnyside. The Lady Grizzlies started to adjust defensively to the Falcons' offense. Dumo said his team was out of sync in the first two games but were able to rotate right in the third game and pick up more balls that normally would have hit the floor. He said his team also blocked more balls in that game.
"We were ahead of them most of the game," Dumo said. "We just couldn't put them away."
He said Sunnyside controlled the game until the score got into the 20s. Then it was back and forth and Sunnyside got stuck on point 23. Eventually Hanford won the game.
Sunnyside's Molly Dolan finished the night with three kills and three blocks. Jordan Jaquish had two digs, four kills and four blocks. Clair Schilperoort had two aces, eight digs, two blocks and two kills. Melissa Stamschror had one ace, two digs and 12 assists. Alexis Ramos had one ace, two digs and five kills. Kasi Guillen had nine digs and Janelle Mendoza finished with two aces and three digs.
Dumo said his team has got a lot of talent but is still adjusting to being able to change defense to their opponents' offense.
"Once they pick up the different defenses to the way other teams play offense, we'll be okay," he said.
Sunnyside (0-2) will next host Eastmont this Thursday, Sept. 13, at 7 p.m.