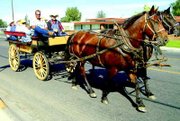 Kudos to the city of Sunnyside for passing an ordinance Monday night, Sept. 10, which authorizes police to impound vehicles owned by uninsured motorists.
I'm sure someone out there will find a complaint with the new law, something about rights or freedoms.
But driving is a privilege with responsibilities. That includes obtaining proper car insurance.
If you think this is government getting too nosy, then think again. After all, the government already tells us to wear seat belts, why shouldn't it require us to our vehicles to protect ourselves and others?
Joni and I had an all too close encounter with an uninsured motorist three years ago. The other party was at fault and it was later discovered she had no insurance.
Fortunately, we have a good insurance policy with a good company backing it. Still, there was that lag time between the accident and when it was discovered the other party's "insurance" information was bogus.
Since the other driver didn't have insurance, our insurer picked up the tab and our rates were not impacted. That's the good news. The bad news is that we still had a deductible to pay because of the other person's irresponsibility.
So, yes, I believe anything that can be done to get uninsured motorists and their vehicles off the road is a good thing.
I've heard tell there are a number of unlicensed drivers in our area.
I don't know if that's because they are here in our country illegally or not. Whether or not that's the case, though, at least drivers have a big incentive to at least insure their cars legally.
It's another groundbreaking step taken by the Sunnyside City Council, in the wake of the anti-gang and special zone ordinances designed to cut down on crime. The difference this time is it might just keep you safer on the road the next time you drive in Sunnyside.
More like this story