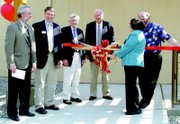 GRANDVIEW - The Grandview campus of Yakima Valley Community College hosted a dedication ceremony for its newest addition, the Workforce Education Center, Thursday morning.
At the ceremony there were many dignitaries from the Lower Yakima Valley area, including state Senator Jim Honeyford, state Representatives Dan Newhouse and Bruce Chandler, Grandview Mayor Norm Childress, former Grandview Mayor and Yakima County Commissioner Jesse Palacios and former Grandview Mayor Mike Bren.
YVCC President Dr. Linda Kaminski told the crowd at the ceremony that the Grandview campus first opened to community members in the fall of 1990, attracting more students than originally anticipated.
"Over the years, the student population continued to grow and we experienced two expansions, including two new annexes," she said.
When the former Grandview Safeway building at the edge of the campus was put on the real estate market, YVCC noted an opportunity for further expansion.
According to Kaminski, the college was able to purchase the building July 2, 2003.
She said funding for the expansion of the campus' Workforce Education Center started becoming available with a state-matching grant of $1 million in June 2004.
A variety of agriculture-related and health-related organizations also helped with grants and donations for the new technical programs the college wanted to provide.
"The campus is now able to offer much needed allied health programs," Kaminski commented after highlighting the wine program's benefits to the agriculture industry.
Sheri Brockway of Brockway Opfer Raab followed Kaminski's speech, explaining her firm's involvement in the construction of the new facility.
Brockway told the audience that there were challenges in converting the former grocery store into an architecturally pleasing education facility.
"It was something fun," she said. "We are proud of it."
Also on-hand was Kris Tucker of the state arts commission. She explained the process of obtaining art to reflect the community and industries served by the education center in Grandview, stating the artwork was selected by a committee.
Honeyford commented to the crowd, "It's a great day for Grandview and Yakima Valley Community College...it's a greater day for the Lower Valley."
Both Newhouse and Chandler credited the college and its board for providing opportunities and being tenacious in the endeavor to make the education center a reality.
The ceremony ended with a ribbon cutting and tours of the new facility, allowing community members, faculty and dignitaries an opportunity to view the various areas that will begin being utilized this fall by students of YVCC.