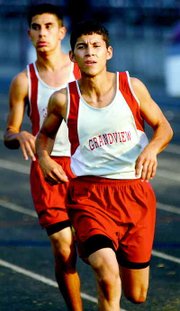 GRANDVIEW - Though the Grandview cross country team lost its meet against Toppenish and Quincy Thursday night in Grandview, Jose Mendez and Jordan Sanchez were the top performers in the running field for Grandview.
Mendez earned first place honors, with his time of 17:36. His performance was nearly a minute ahead of the runner-up finish of 18:35 clocked by Sanchez.
"The boys did very good," said Grandview cross country Coach Jim Pillars.
He was also impressed with the fourth place performance of Coty Kollmar and Spencer Blanshan's eighth place standing against the Wildcats and Jackrabbits.
The Greyhound team was short of the five-runner requirement to win the meet, according to Pillars. "But, we did very well and I can't complain at all," he commented.
Pillars said the lone runner for the Grandview girls was Krystal Martinez, who earned fourth place honors, clocking 23:52 at the meet.
"The team has a lot of room for improvement...needing to get into shape...'that's the name of the game'."
Grandview travels to Ephrata next Thursday, Sept. 20. They will be competing against Prosser, Selah and Ephrata.