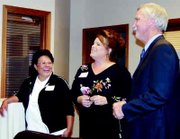 At an open house and ribbon cutting ceremony Thursday night, the HAPO Community Credit Union presented the Sunnyside Community Hospital Foundation with a donation of $25,000.
"Just so we can be at the silver level, we are adding $1," joked Ron Hue, HAPO's Public Relations Director.
The newest credit union to the Sunnyside community, HAPO announced its intentions to open the branch on South Sixth Street in March.
Hue told those in attendance at the gathering that the credit union believes strongly in being involved in the community.
He highlighted community events and organizations the company helps support in both Yakima and Tri-Cities, stating that the partnership HAPO hopes to create with the community of Sunnyside and its surrounding communities is equally beneficial.
Development Director Bill Flower of the Hospital foundation said the donation received from HAPO brings the emergency room project to 80 percent of its needed funds.
HAPO representative, Nancy Pickett, said she has been impressed with the reception of the community and the credit union appreciates the great welcome it has received.
"Be proud of your community," she commented.