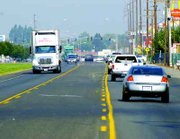 Sunnyside residents were surprised Thursday afternoon, yesterday, to find that traffic on the Yakima Valley Highway running between Scoon Road and 16th Street was restricted to one lane in each direction.
The change is permanent, says City Manager Bob Stockwell, a response to a plan the city has had in the works since last year.
"We changed it so we could have a turn lane in the middle," Stockwell explained this morning. He said the problem in the past is that the left lane was being used for left-hand turns, causing traffic in that lane to back up.
Stockwell said the change will make the road wide enough so motorists can turn, and also will make that section of the highway consistent with traffic east of 16th street, which is also one lane in each direction.
There's more traffic east of 16th, Stockwell noted, and there have been no problems with one lane traffic each way.
Stockwell also said the change was sought by council based on input from the public.
"The response council was getting from the community is that the lack of a turn lane was causing problems," Stockwell said.
There was no legal requirement to hold a public hearing before the lane change, Stockwell said, so city crews went forward with the change.
Yakima Valley Highway is a former state highway, but when I-82 was built the old highway became the city's responsibility. As a result, Stockwell said there was no need to consult with outside authorities.
There may be public support for the change, but there are also voices concerned about the move.
Dean Wagenaar is the principal at Sunnyside Christian High School and said his initial reaction to the move was surprise. "I had no idea they were going to make that change," he said.
Wagenaar added a number of motorists were confused when the change went down yesterday afternoon. He noted many didn't know which lane they were supposed to drive in. School bus drivers were even confused by the change, he said.
"If their goal is to slow it (traffic) down, then they're going to do that," he said. "I don't see it as a positive change."
Delores Hutchinson of the Hutchinson Fruit Stand echoed Wagenaar's sentiments. "People can't figure out how to turn in (to the businesses) without arrows," she said. "It is going to take a while for them to figure it out."
Hutchinson did, however, note that she feels the one lane traffic may cut down on racing along the Yakima Valley Highway.
Kristi Jongsma, manager at Stokes Burger Ranch, said business was normal at the Sunnyside eatery. Added owner Dean Stokes, "I do have a question. I want to know if they (Sunnyside Public Works) will be placing arrows to let people know where to turn."
Sunnyside Police Chief Ed Radder said the lane change is still a work in progress and asked for the public's patience.
"There's no easy way to do what's being done," Radder said. "But it's a lot safer. No one will be stopping in front of you to make a left-hand turn.