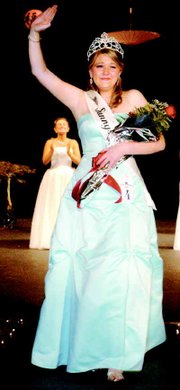 The theme of this year's Miss Sunnyside Pageant, held this past Saturday, was "Shanghai Surprise" and the pageant provided plenty of surprises, none more than for Antassia Hammond.
Hammond was named the 2007-08 Miss Sunnyside on Saturday night.
"I didn't think I had made it," Hammond said of the moment before her name was called out. "I was getting ready to cheer and support the other girls."
Asked what was going on in her head when she heard her name, Hammond said, "I'm not really sure anything was going on in my head. I was so shocked and surprised, I didn't know what to think."
With her best friend and fellow contestant Ashleigh Emery on stage with her, it was hard to tell who was more happier for Hammond's win, Emery or Hammond.
Hammond joined first princess Molly Dolan, second princess Gabriela Castillo and third princess Janelle Mendoza to make up this year's court.
In another surprise fitting of the title of the pageant, second princess Castillo informed pageant officials on Sunday she will be moving to California and wouldn't be able to fulfill her duties to the court. Fourth runner-up Rebeca Barrios was then named the third princess and Mendoza moved up to second princess.
The pageant opened to the song "Kung Fu Fighting" and included a freestyle competition, a talent portion and an evening gown competition. Miss Sunnyside Court chaperone Teri Alvarez-Ziegler and the 2006-07 court emceed the event.
Castillo was named Miss Congeniality and received a $250 Leo Lopez Memorial Scholarship. Each non-finalist received $50 scholarships, each princess an $800 scholarship and Miss Sunnyside earned a $1,300 scholarship.
A day later, Hammond still hadn't fully grasped her win.
"I realize I am Miss Sunnyside," Hammond said on
Sunday, "but I don't have the full weight of it yet."
The 2007-08 Miss Sunnyside Court will work with the Sunnyside Police Department to help raise gang awareness.