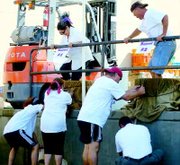 GRANDVIEW - All told, about 90 people spent Saturday afternoon stomping close to 2,000 pounds of grapes during the second annual Great Grandview Grape Stomp, which drew a crowd of about 300 people.
"This truly was great," said event coordinator Elizabeth Alba.
The three-person teams stomped for one minute each during the initial challenge, with the top three weights in each division making it to the championship rounds.
In the kids division, the Black Panthers, comprised of Brandy Ridenour, Josh Jardine and Isaac Alaniz, 13.92 pounds of grape juice stomped to claim victory.
In the adult division stomp off, The Juicers, Sarah Deal and Elias and Jennifer Hegdal, stomped 10.51 pounds of grape juice for top honors.
In the service group category, the Grandview Chamber of Commerce team "Two and a Half Men" stomped 12.36 pounds of grape juice for first place. The team consisted of John Tucker and Kirk and Adam Ruppert.
Competition was fierce between the City of Grandview team and two Smucker's teams during the corporate stomp-off, with the Smucker's Grapesketeers stomping to victory at 16.68 pounds. The top team consisted of Emily Douglas, Tony Galaviz and Julie Manus.
The D-Vine Women of the Yakima Visitor's and Convention Bureau took top honors for best costume; the ladies were dressed old-world style while their male teammate was dressed as a pirate.
The event featured wine tasting, vendors and kids games, as well as live music provided by Private Reserve. Lead singer Kim Starr also served as emcee.