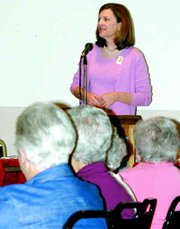 PROSSER - Guest speaker Joyce Wallace of Issaquah told the Lower Valley Christian Women's Club at its monthly meeting this past Monday that she often asks herself, "How good is good enough?"
Yesterday's message was that of hope in knowing that it is not so much our works that are counted as much as a relationship with Christ that matters most to God.
Wallace said she was a classic over-achiever growing up. "In high school, I made a goal to get higher grades," she stated, adding that she approached extracurricular activities with a desire to become the best at a particular activity. When she would realize she wasn't particularly good at a certain activity, she would move on to another activity.
"My approach was similar in my moral choices," she noted. "I thought, 'I'm better than they are'."
Wallace hadn't been raised in a church-attending family. But her family began attending church after moving to Georgia from California. "My family started going out of social pressure," she said.
But, she said, there wasn't a large difference made from attending church because her family was "...a pretty moral family."
It was her reclusive brother's decision to attend a summer camp that brought about a gradual change in Wallace's life.
"He came back different...he was friendly, engaging and even joyful," she said.
The following summer she was encouraged to attend a similar camp and, in spite of her skepticism, learned her perceptions were incorrect regarding her status with God.
A pastor, who spoke at the camp, redefined sin for Wallace, helping her understand it isn't what "...other people do."
She learned, "All have sinned."
The pastor illustrated his message in two ways. His first illustration was that of a canyon with sin at the bottom.
The pastor asked those at the camp, "What if there were a bridge across the canyon?" said Wallace.
She said it was "harsh" to learn that sin alienates a person from God, making the person an "enemy of God."
It seemed terminal," said Wallace.
Until that point, she believed everyone goes to heaven.
The pastor told the camp goers that Jesus Christ is the bridge across the canyon, and He can help people get to heaven, stating "Many of you are trying to build your own bridge, wondering if it is good enough," according to Wallace.
She said the second illustration was of a house and the pastor challenged the campers to open the door of the house to Christ.
"It made so much sense, it scared me," Wallace said.
She said a prayer that evening, asking God to take control of her life. Unfortunately, Wallace had not fully given Him control.
She said she spent time praying and reading her Bible, attempting to please God.
A friend, according to Wallace, informed her that reading the Bible was supposed to be about building a relationship with God, "...not a condition for His love or part of a check list."
As she grew older, Wallace had dreams of having children. She and her husband found out they were unable to have biological children and she began to "justify" herself.
"Thankfully, my husband pointed out that perhaps God didn't want us to do the ordinary, but the extraordinary," said Wallace.
After grieving her dreams and "yielding" to God's dreams for her life, Wallace and her husband were able to adopt two children in Moscow, Russia.
"He walked me through my grief," Wallace stated.
She said her character continues to be molded and she has learned to ask, "What now God?" instead of "Is it good enough?"
Wallace added, "He's not afraid of our emotions and He can meet us where we're at in life."