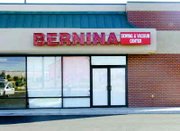 In spite of a move from Eastway Center to East Lincoln Avenue in anticipation of an increase in customer base, Bernina Vacuum and Sewing Center has closed its doors.
Sue McMillan said the decision to close was a month long process.
"With the increase in business costs related to credit card and debit card use, operations became too expensive. Many customers have moved from cash purchases," said McMillan. "This is not the only factor," she added.
She said business was slow in the original location at Eastway. So, Bernina made the decision to move to a higher traffic area on East Lincoln Avenue, in front of Wal-Mart.
"Cameron (McMillan) believes spending habits in Sunnyside and its surrounding communities have also changed. People are traveling to Yakima or Tri-Cities for certain purchases," stated McMillan. "We agonized over the decision (to close)...it was not easy for us," she noted.
The primary factor in the decision to close was that the store's customer base did not increase, however there are a number of factors, including the increase in doing business, that played into the decision.
"We want to continue supporting our customers in the Sunnyside area as best we can," said McMillan.
She said many of the store's customers have been supportive and are now visiting the couple's Yakima store. She explained Lower Valley customers were frequenting the Yakima store because of the quilting supplies stocked there.
Customers are encouraged to call the Yakima store for services via mail order or pick up and drop off. The store is located at 103 South Seventh Avenue in Yakima and customers can call 1-800-400-0078.