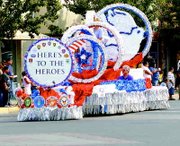 The results are in from this year's Sunshine Days Parade, held this past Saturday.
In a category new to this year's event, the city of Toppenish float won the first-ever Sunnyside Royalty trophy.
Toppenish also took home the top prize for best float among cities with more than 3,500 residents.
The Little Miss Mabton float won top honors among cities with less than 3,500 people, and the Prosser Senior Center earned the nod for best organizational float.
Parade honors for the best high school band stayed closer to home, as the Sunnyside High School band was selected the best in its category. Martin's School of Dance won the award in the marching youth category.
The YakiVegas PT Cruiser Club was selected as having the best parade entry by a car club.
Prudential Valley Investment in Sunnyside won in the classic car category.
The Yakima Valley Dairy Ambassador's horse-drawn carriage entry, provided by Bill and Teresa Bron, won top honors among horse hitch entries. There was a tie among individual horse entries ridden in the parade, with Jose Rodriguez Sr. and Jose Rodriguez sharing top honors.
The Sunnyside Days Parade drew a total of 53 entries, with 12 area pageant courts participating.