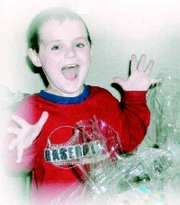 ZILLAH - Every parent's dream for their child is a healthy life...the worst nightmare is a deadly illness.
Amy (Harris) and Jason Root are living that nightmare. She is a nurse for Toppenish Community Hospital, and he is a nuclear medical technician at Sunnyside Community Hospital.
The family's nightmare began when her son, Chase Morris, now 7-years-old, was first diagnosed with Osteogenic Sarcoma at the age of three.
A tumor was found on the right arm of Chase. His parents took him to Children's Hospital and the hospital removed his right humorous to extract the cancerous tumor. He endured a year of chemotherapy following the procedure.
Osteogenic Sarcoma, often known as Osteosarcoma, is the most frequent type of bone tumor commonly afflicting young people ages 15 to 25. It forms on the growing ends of the bones.
Amy said Chase seemed to be healthy after the chemotherapy, however they returned for a follow-up visit to Children's only to discover he had developed a new tumor in his right lung six months later.
"They removed a section of the lung with the tumor," she stated.
Again, the belief was that Chase would recover.
Another follow-up visit occurred eight months after the surgery. Another tumor was discovered. The tumor was discovered in Chase's left lung, according to Amy.
She said her young son was subjected to another surgery as a result of the discovery. "He had three more months of chemo," she added.
After a couple of years without any new tumors having been discovered, the family was breathing a sigh of relief.
This past summer, that relief was again met with a grim reality. "In July, we went for another check-up and another tumor was found," said Amy.
She said the tumor, located on the rib, was decidedly treated with experimental medications. "Chase spent a month at Children's and another month at home with the medication," Amy explained.
Over the course of time, Amy noted the tumor was not getting smaller. "I could feel it with my hand," she said.
Yet another surgery, this time to remove the rib affected, was scheduled. "He has had so many surgeries," said Amy.
She took Chase to Children's three and a half weeks ago to talk about the scheduled surgery.
"The tumor had grown to twice its size and three more tumors were found in his left lung," Amy cried.
The three tumors in Chase's lung are located near his airway, spine and blood vessels.
"Children's told me they felt surgery was no longer an option...We were told to get in touch with hospice," Amy said.
The current diagnosis is called Metastatic Osteosarcoma.
The family has found a cancer center in Los Angeles, Calif. that is willing to treat Chase. "They have helped a lot of people in similar circumstances," Amy said.
She said Chase has had a positive outlook through all he has had to endure. "There are days where he is tired or doesn't feel well because of the chemotherapy and medicine, but the center in California has given us hope," said Amy.
The other challenge of Chase's current condition is the amount of pain he experiences from the tumor in his rib. "Some times Motrin doesn't help and I have to give him Oxycodone," Amy explained.
She said he was in school for a short period of time, however the chemotherapy made him too tired, and the curiosity of his condition was distracting.
"Chase is doing really good," Amy assured.
Sunnyside Community Hospital's Malissa Garcia, who is helping with efforts to hold a fundraising yard sale to assist Chase in receiving treatment in California, said his diagnosis is terminal and the treatment he will be seeking is experimental, meaning insurance may not cover it.
"We don't care about the money as long as we can keep Chase," Amy said.
The hospital employees, however, want to help the family with the yard sale since the cost of treatment will be in excess of $600,000 and it will cost another $800 for the apartment Amy will be living in while Chase receives treatment.
"We're not ready for Hospice," said Amy.
The family will leave tomorrow (Thursday) to Los Angeles for Chase's treatment. "I have hope," Amy said.
The hospital's yard sale is to be held Saturday from 7 a.m. to 3 p.m. at the corner of South 11th Street and East Edison Avenue.
Garcia can be contacted for more information or donations at 837-1760 or 509-832-0641.