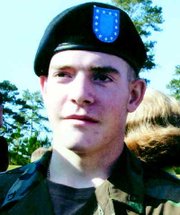 GRANDVIEW - Army Specialist Matthew "Matt" Emerson, son of L.J. and Ginger Emerson of Grandview, died Monday, Sept. 17, while serving in Mosul, Iraq.
The Emerson family learned yesterday that Matt, 20, was reportedly killed in Mosul, Iraq, while serving as a gunner on a Humvee.
According to his aunt, Barbara Olmstead, Emerson had served in northern Iraq since his deployment last November. She said the Army had promoted him just two months ago.
Olmstead said Emerson enlisted in February 2005 while still a senior at Grandview High School. "A soldier was all he wanted to be," Olmstead noted. "It just wasn't supposed to go this way."
She said friends and family members held big parties for Emerson when he came home on leave and before he left for boot camp. "He had a large circle of friends, a large loving family," Olmstead said.
Emerson was born and raised in Grandview and grew up in the family home on Cherry Lane, which has a large sprawling yard. "He loved this place. He had forts in every corner," recalled Olmstead.
Grandview High School Principal Mike Closner was a teacher at the school when Emerson graduated in 2005.
"He was just an outstanding young man," Closner said. "When I think of Matt I think of number 82 on the football team. The dedication he had to football really stands out," he said of Emerson, a wide receiver for the Greyhounds. "He was one of the hardest working young men we've had. He never complained. He always led by example."
Emerson's character extended into all areas of his life. "The values and morals he had were extremely high," he said. "He took pride in defending his country. Matt was a very dedicated individual with a strong sense of drive."
Emerson will be missed by both students and staff at the school, Closner said, noting that counselors are staffed at the school to help as needs arise.
Closner said the high school is in the early stages of developing some sort of assembly or memorial in Emerson's honor.
School District Superintendent Kevin Chase said he will let the Emerson family provide guidance on any possible district-wide memorial. "We will support them in any way we can," he said.
Grandview City Administrator Scott Staples said flags at city buildings have been lowered to half staff in honor of Emerson, the first Lower Yakima County soldier to die during the Iraq war.
Staples said the flags will remain lowered through the end of this week.
It's an appropriate touch for a hometown hero.
"He loved Grandview, loved football," said Olmstead. "He loved God and he loved his country. He was just a sweet boy, a true hometown boy."