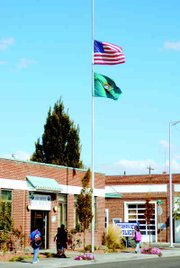 James Jack Carlyle, 81, of Sunnyside passed away Friday, Sept. 14, 2007, in Grandview.
Jack was born June 29, 1926, in Winona, the son of Otis and Lillian Carlyle. He received his education in Sunnyside. On Sept. 21, 1946, he married Juanita Jo Carlyle in Sunnyside at the United Methodist Church. They made their first home in the Sunnyside area before residing in Hermiston, Ore., for 11 years. In 1964, the Carlyle family moved to Federal Way and in 2001, they returned to Sunnyside.
His wife, Juanita Jo, died Oct. 21, 2001. Jack had continued to make Sunnyside his home.
Jack is survived by a daughter, Dianne Tindell and husband, Bob of New Port Richey, Fla.; three sons, John Carlyle of Venezuela, Steven Carlyle of Arizona and Jeff Carlyle and wife, Gwen of Tacoma; six grandchildren, Joel and wife, Celeste, Jason Carlyle, Brandy Carlyle Swafford and husband, David, Lisa Leach, KD Carlyle and Char Carlyle; five great-grandchildren, Parker Leach, Ava Leach, Armando, JoelJordan Carlyle and Ryder Jack Swafford; two brothers, Gene Carlyle and wife, Betty of Sunnyside and Roger Carlyle of Spokane; one sister, Madeline Pierce of Anchorage, Alaska; and numerous nieces and nephews.
He was preceded in death by his wife, Juanita Jo; and grandson, Chris Leach.
Viewing and visitation will be held today, Thursday, Sept. 20, 2007, from 4 to 8 p.m., at Smith Funeral Home in Sunnyside. Funeral services will be held Friday, Sept. 21, 2007, at 11 a.m. at Smith Funeral Home in Sunnyside, with burial to follow at the Sunnyside Cemetery.
Those wishing to honor Jack's memory may contribute to Lower Valley Hospice. Smith Funeral Home is in charge of arrangements.
More like this story