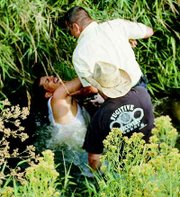 It took several Sunnyside police officers and a bounty hunter named John to catch him but in the end Victor Carrillo was carted off to jail.
The bounty hunter, who works for Bell Recovery Service out of the Tri-Cities, tracked Carrillo to Sunnyside yesterday. Carrillo was wanted on charges of jumping bail, driving without a valid operator's license, false reporting and possession of stolen property in Toppenish.
After being tracked to a neighborhood west of South First Street, Carrillo took off and the bounty hunter John called in the Sunnyside police for help. After several sightings of Carrillo, he was tracked to a drainage ditch between South First Street and Independent Food Processors, Inc. Here, police lost sight of him and spent about 45 minutes looking in the drainage ditch and around the food processing plant.
Eventually, two workers for Independent Food Processors, Inc. spotted Carrillo's leg in the tall grass above the water of the drainage ditch and alerted John the bounty hunter.
Carrillo resisted and was tased by the bounty hunter as several Sunnyside police officers converged on Carrillo to subdue him.
Sunnyside Police Det. Sgt. Jeff Cunningham said on top of the original charges Carrillo faced, he will now face obstruction and resisting arrest charges in Sunnyside as well.