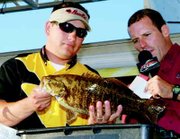 RICHLAND - With 344 fishermen competing for the daily prize of the Big Bass award at the Wal-Mart FLW Western Division Series bass fishing tournament, Grandview's James Castillo earned the Big Bass prize last Wednesday and received $300.
The tournament will last until this Saturday for the professional fishers and end today (Friday) for the co-anglers, or amateurs. Each day a big bass award is given to the fisherman who brings in the biggest fish.
On the first day of the tournament it was Castillo, who caught the fish before he returned to shore.
"I literally caught it on the last cast of the day before heading in," he said. "It's a pretty big thing to win the Big Bass."
Each co-angler goes out with a professional each day. The co-angler must only fish from the back of the boat. When the fishermen return from a day's fishing, they weigh their catch (up to five fish a day). The fishermen with the most weight at the end of the tournament wins.
If Castillo wins the tournament, he'll earn $20,000.
"So far I have 10 lbs., three ounces," he said. "I figure I need to catch two or three fish in the two to three pound range to finish in 63rd."
If Castillo finishes there he'll win $750, $50 more than his entry fee. He thinks he'll need to catch at least 16 pounds today to finish in first place. Sixteen pounds isn't likely, he said, but he has had a 16-lb. day before.
Castillo is an administrative services manager at the Yakima Valley Farm Worker's Clinic in Toppenish.