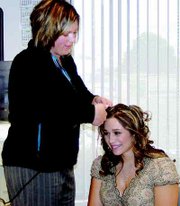 In addition to being "trendy," pink hair extensions were added to the locks of the women and family members of Sunnyside's WorkSource office Thursday afternoon in an effort to raise cancer awareness.
The statement being made is that of an overall support for breast cancer awareness and the person responsible for organizing the lunchtime event was Gladi Brinlee, a WorkSource specialist.
The ladies (and one brave man) of varying ages within the agency made a decision to show their support for breast cancer awareness by adding pink hair extensions to their hair for a $10 donation per extension.
Some added an extension of light pink and others added a darker pink or magenta extension to their tresses. Yet, there were a few who decided they would be even bolder in adding both colors.
Brinlee said, "My sister had breast cancer approximately 15 years ago, and I felt this would be fun and exciting."
Brinlee had noticed an article about a group of girls in Yakima who had decided to add the extensions to their hair. She said after seeing the article, she asked her coworkers if they felt they would like to do the same thing.
"It is a good way for WorkSource to show support for cancer patients and survivors," said Brinlee.
After receiving an overwhelming show of enthusiasm for the idea, Brinlee contacted Vanessa Johnson, a Yakima hairstylist, to see if Johnson would be willing to travel to Sunnyside to give the WorkSource ladies extensions.
Johnson said all the proceeds from the pink hair extensions will be given to O'Hana Mammography Center. "The donations will be used to assist patients with difficulty paying for cancer diagnosis and treatment."
As Johnson added extensions to the hair of the ladies at WorkSource, she informed them that the extensions were made from 100 percent human hair and could be washed normally. "The light pink will fade to a light blond and the dark pink will not fade. They will stay in place for four to six months," she told the ladies.
When asked why Johnson decided to offer the service, she stated that she has had family, friends and clients who have suffered from cancer, and she wanted a way to raise awareness.
Laura Vazquez, another WorkSource specialist, shared with those in the room that statistics show one in four people knew someone afflicted with cancer 20 years ago, however today's statistics are much more grim. "Now every single person knows someone affected," she said.
Several of the women shared stories of people they know who have suffered from cancer and said they were happy that they were given the opportunity to participate in the event at WorkSource.
As they watched the progress of the added extensions on one another, several complimented each other on the overall appearance of the new tresses. "It looks so cool on you," said one woman to another.
Brinlee's choice of adding a dark pink extension to her silver hair raised even more praise from several of her coworkers, "It is so beautiful."
The women expressed the fact that they were apprehensive at first regarding the addition of such a bold color to their hair, but all were very impressed at the end result.
In all, 17 WorkSource specialists and family members were slated to add pink to their hair.
Rhonda Marquez, another WorkSource specialist who participated in the event, said she thought the idea could be suggested to local girls' sports teams.
The group raised $255 for cancer awareness when all was said and done.