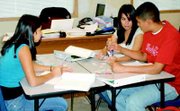 MABTON - Students sit in groups in Ryan Downing's math class, discussing the problems and helping each other through them. It's part of the college preparatory math curriculum at Mabton Jr./Sr. High School.
In Jesus Sustaita's AP science class, students fling out answers as fast as Sustaita can ask questions.
According to Tamara Steen, a classroom teacher and AP coordinator at Mabton Jr./Sr. High School, college preparatory classes in math and science have tripled in the last 10 years due to demand. Advanced college preparatory classes in English and language have quadrupled, she said.
"You crank up the level and kids rise to meet your expectations," Steen said.
This is just one of many reasons Mabton Jr./Sr. High School has been recognized in a new national report for its model approach to providing all of its students with a high-quality education that lays the foundation for their success in college and later life.
The report, titled Rethinking High School: Preparing Students for Success in College, Career and Life, cites the school for creating a college oriented culture, setting high expectations for success in school, creating an aligned 6-12 college prep curriculum, providing students support to help transition into college and providing students with a high school graduation advocate.
"Today is a celebration," Mabton Jr./Sr. High School Principal Jay Tyus said at a news conference held this past Wednesday to release the results of the study. "We challenge our students with a rigorous curriculum. Our school recognizes college entrance criteria as graduation requirements; four years of English, three years of math, two years of foreign language and two years of science."
Tyus explained there is a culture of work and learning at the jr./sr. high school. The students are prepared in Mabton not just to graduate, but to be able to continue on to secondary learning.
The report, funded by the Bill and Melinda Gates Foundation, was published by WestEd, a non-profit education research firm.
The report found students at Mabton Jr./Sr. High School have a graduation rate of 80 percent, much higher than the national average in 2004 of 68 percent. Last year, the graduation rate in Mabton was 90 percent.
"We're looking forward to the day when we have a 100 percent graduation rate," Mabton School District Superintendent Sandra Pasiero-Davis added.
The study also found 85 percent of students at the jr./sr. high school are enrolled in either Algebra II or Algebra III (pre-calculus).
More impressive is that 40 percent of the recent alumni at Mabton are enrolled in four-year colleges and 19 percent are enrolled in two-year colleges.
Tyus said the school is a public practice school and classes are open to anyone to come and observe.
"What we do isn't a secret," he said.
He cited the advisory classes at the school as being a boost to the success he's seen. Students meet with an advisor four times a week.
"Advisory is about family and support and helps shepherd them (the students) towards graduation," Tyus said.
Arturo Nunez, a student at Mabton Jr./Sr. High School, said at the advisory periods students can talk about anything, not just school related topics.
"If students are having trouble at home, they can talk about that," he said.
Class periods are 70 minutes and there are five of them a day. This year students were switched to a tri-semester schedule.
"All this happened because we wanted it to," Nunez said of the changes.
He is the president of RSVP (raising student voice and participation) this year. RSVP lets the district know what the students want and the district listens.
High school counselor Lucia Tovar added another reason why students at Mabton Jr./Sr. High School are so successful. "The teachers here really care," she said. "If they have a concern about a student they come to me."
She said if a student isn't in class for a few days or there are other problems, the teachers come to her immediately so any problem can be worked out.
"Schools such as Mabton Jr./Sr. High School demonstrate that all students can overcome barriers to success and thrive in an environment that holds them to high expectations and gives them the necessary support," said Vicki Phillips, director of education at the Gates Foundation, in a press release issued by the foundation. "Every student in every community deserves a high-quality education that opens up the doors of opportunity."