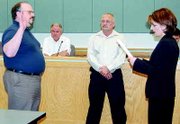 In a surprise move last night at a special meeting of the Sunnyside City Council, city manager Bob Stockwell announced his retirement, effective immediatley.
Five members of the city council called the special meeting and the council and Stockwell immediately went into an executive session to discuss Stockwell's job performance.
After 90 minutes in session the council came out and Stockwell announced his retirement a short time later.
He told the council he has had the privilege of serving as a city manager for 33 years and had helped cities with progress and finding solutions to difficult problems.
"It became my privilege three and a half years ago to come to Sunnyside to serve as city manager," he said. "I was presented with a series of significant opportunities and challenges, and a council that was supportive of doing some difficult things that this community had put off for some years. With the support of the council and for the most part a productive staff, we were able to turn things around to a great extent in Sunnyside and I think to create a community where people can take a new pride in what their community is and hopefully see how much can be done when people work together on a positive basis to find solutions to work towards the overall community."
He said it is more than just a figure of speech to say he is leaving Sunnyside with the air cleaner and predicted Sunnyside will be the same in 20 years, except everything will be newer and cleaner.
He also said there will be more Hispanics serving in city government and in department head positions in the city, something he stated was one of his goals when he first came to Sunnyside.
"And for the most part this community was very supportive of seeing that happen," he said. "As a result, I was able to appoint some people to key positions that will end up benefiting this community well into the future."
After a long pause, he told the council he will retire.
No members of the city council would speak as to why a special meeting was called on Sunday night when Stockwell's job performance was to be discussed at tonight's (Monday) regular council meeting.
"The council felt the meeting needed to be tonight," Sunnyside Mayor Ed Prilucik said.
Prilucik added he didn't think Sunday's meeting was necessary. Asked if Stockwell would have been fired had he not retired, Prilucik refused to comment.
Asked if the council was satisfied with Stockwell's performance as city manager, Prilucik said they were.
Not everybody was, however. In the audience at last night's meeting was Jaime Alba, former assistant to city clerk Deborah Estrada.
Alba claims she was fired three weeks ago for having a personal relationship with Sunnyside Public Works Director Jim Bridges. When confronted about the relationship by Stockwell, Alba said she told him it was none of his business. In her letter of termination she said the reason given for her being fired was due to her lying to Stockwell.
Stockwell admitted to firing Alba but refused comment on the reason, instead directing the Daily Sun News to look at the letter of termination in a public records request.
Bridges said when he was asked about his relationship with Alba he admitted to it. At first, he said, Stockwell asked for his resignation, which Bridges said he agreed to do. Instead, a deal was worked out where Bridges was given a two-week unpaid suspension and docked 240 hours from his vacation time.
Alba has said she has sought council from an attorney about a possible wrongful termination lawsuit.
Although Stockwell retired, the city agreed to give him severance benefits, which include nine months of salary, totaling approximately $87,552. Stockwell will also be compensated for all vacation time, paid holidays and executive leave. The city will contribute 8 percent of his nine-month aggregate salary to a deferred compensation account and Stockwell and his wife will receive health insurance. Stockwell will also receive a $325 monthly car allowance for nine months, life insurance and short-term and long-term disability.
Prilucik thanked Stockwell for his service to Sunnyside, noting his work on upgrading the wastewater treatment plant and the city's purchase of the Monson feedlot as being instrumental to the city of Sunnyside.
Sunnyside City Attorney Mark Kunkler was sworn in last night as the interim city manager.