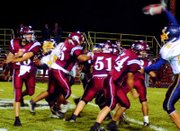 GRANDVIEW - On an emotion-filled night, the Grandview High School football team fought back tears and the Wapato Wolves to earn a 19-13 overtime win last Friday night.
There was already plenty of incentive for the Greyhounds to take the CWAC match-up as it was Grandview's homecoming football game.
Add to that the pre-game ceremony honoring 2005 grad Matt Emerson, who died while serving with the U.S. Army in Iraq, and these Greyhounds were on a mission.
Just minutes before kick-off, Grandview Head Coach Dustin Lamb said the locker room mood was somber in remembering Emerson, a former Greyhound wide receiver whose number 82 uniform was presented to his family just before the game started.
"Adversity," Lamb summed up his team's approach to the contest. "Somehow we just have to keep working and play the way Matt did, which is 100 miles per hour."
A five-play, 70-yard scoring drive-capped by Spencer Lewis' 12-yard end around touchdown run-to open the game certainly helped rev the Greyhounds' motor and sparked them to an early 7-0 lead.
But Grandview's spread offense remained stuck in neutral for the remainder of the first half, bogged down by penalties and drives that stalled at midfield.
The good news for Grandview, though, is that Wapato struggled against the Greyhound defense-including consecutive smash-mouth quarterback sacks by Grandview's Kyle Womach-and that allowed the home team to nurse a 7-0 lead into the halftime locker room.
Grandview appeared to be on the verge of putting the defensive battle out of reach with a touchdown in the third quarter. Following a missed extra point attempt, the Greyhounds led 13-0 heading into the final stanza.
But for the second consecutive Friday, Grandview saw a two-touchdown lead disappear in the late stages, as Wapato rallied to knot the contest at 13-13.
"We just started running out of gas," Lamb said of his team's play in the fourth quarter. "We came out (to start the contest) with a lot of energy but we ran out of gas." Of the night's emotional swings he added, "It was a big roller coaster ride."
The score remained knotted at 13-all at the end of regulation, requiring a Kansas overtime tie-breaker.
Grandview got the ball first at the Wapato 25-yard line. After converting a key third down play to set up a first-and-10 at the Wolves' 11, Grandview running back Storm Shea burst through the line and found paydirt to put the Greyhounds up 19-13.
Wapato wasn't done yet, though. Not only did the Wolves block the ensuing extra point attempt by Grandview, on their possession they stormed all the way to within a foot of the Greyhound goal line and set up shop with a fresh set of downs.
After Grandview stuffed Wapato's first two plays, the Wolves attempted to pass the ball into the end zone on third-and-goal, only to have the ball intercepted by Greyhound Marty Guillen to seal the homecoming win.
Shea recorded 87 yards rushing for Grandview on 20 carries, while Guillen had 31 pass receiving yards to go with 26 rushing yards. Grandview quarterback Matt Concienne completed 10-of-20 passes for 97 yards.
Friday's contest marked the third consecutive nail-biter for Grandview (2-1, 2-2), with the Greyhounds coming out on top in two of them.
None was bigger so far than the win over Wapato.
"The kids showed a lot of heart to come through in overtime like they did," Lamb observed. "They were emotionally and physically spent, but they gutted out the win. That was a nice tribute to Matt Emerson, because that is how he played every down for us."
Grandview won't rest on its laurels from Friday's emotional win for too long, Lamb added, because the Greyhounds travel to always tough East Valley this coming Friday.
"They run the ball extremely well," Lamb said of the Red Devils. "They have a pretty versatile offense."
One thing that will help though, the coach added, is that gearing up for East Valley is a lot like looking in a mirror for the Greyhounds.
"They're a little more like us," Lamb said. "They're smaller and built on speed. It should be a good match-up."