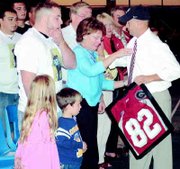 GRANDVIEW - There were tears and more than a few smiles as L.J. and Ginger Emerson of Grandview spoke about their son Matt, an Army Specialist who died last week in Iraq.
As they waited for the start of last Friday's Greyhound homecoming football contest and a pre-game ceremony that honored Matt, a 2005 Grandview High graduate, Ginger spoke about the love and support of the Grandview School District and community.
"We've had a steady parade of friends visiting us," said Ginger, who works at McClure Elementary School in Grandview.
She said the effort by every student at the school in tying red, white and blue ribbons on a fence in front of McClure has been especially moving. "I hope it's instilling a sense of patriotism in the children," Ginger said.
Matt's brother Joe expressed appreciation for the pre-game ceremony, complete with a 21-gun salute by the Grandview VFW. "I think it's fantastic," he said.
Emerson, the first Lower Yakima County native to die in Iraq during the current war, signed up for Army service while still a senior at Grandview High. L.J. noted, "Matt was doing exactly what he wanted to do. He loved the freedoms of this country."
In the wake of Emerson's death, Ginger said she still feels the U.S. should stay the course in Iraq. "They're fighting for our freedoms," she said of U.S. solders stationed in Iraq. "They're making a difference and getting the people in Iraq on the road to democracy."
Matt Emerson's funeral service was held today, Tuesday, at Grandview Nazarene Church, followed by a burial service with full military honors at the Prosser Cemetery.