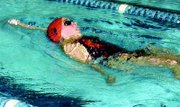 YAKIMA - Despite dropping a 91-69 decision to Kennewick Tuesday, four Sunnyside swimmers and its 400-yard freestyle relay team came away with victories.
Sunnyside's Toni Castillo clocked the winning time in the 200-yard individual medley. Her time was 2:32.56. Teammate Mollie Pearson was second in 2:56.73.
Castillo also outperformed her competitors in the 100-yard backstroke, clocking a time of 1:13.77.
She and teammates Emily Hutchins, Megan Razey and Kaitlyn Broersma earned top honors in the 400-yard freestyle relay, with a time of 4:40.64 against Kennewick.
Kristen Wedam of Sunnyside earned first place honors in the 200-yard freestyle for the Lady Grizzlies (2:39.96). In the same event, Broersma earned runner-up honors, electing to swim the breaststroke. Broersma's time was 2:41.12.
Broersma added a top finish to the Lady Grizzlies' performances in the 500-yard freestyle, clocking 6:25.75. Wedam was the runner-up in the same event, with a finishing time of 7:12.51.
Sunnyside's Mollie Pearson clocked a first place finishing time of 1:25.89 in the 100-yard breaststroke, with Razey earning third place honors.
Third place honors were also earned by Hutchins for her performance in the 200-yard individual medley. She clocked a time of 3:09.30.
Sunnyside swim Coach Holly Dunham-Wheeler was impressed with the performances against Kennewick, stating, "Not bad for having six girls swimming."
The Sunnyside swim team will travel to Federal Way to participate in the Mukiteo Invite this coming Saturday.