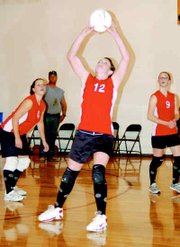 BICKLETON - Despite a swash-buckling attack by the Bickleton Lady Pirates in game two last night, Sunnyside Christian's volleyball team swept to a 3-0 victory.
The league win, however, didn't come easy for the Lady Knights.
After rolling to a relatively unchallenged 25-5 victory in the first contest, Sunnyside Christian faced a much more determined opponent in game two. Bickleton extended the Lady Knights into overtime before finally succumbing by a 27-25 score.
"In game two we strapped on our cement shoes and struggled getting to the ball," SCHS Coach Tammy Bangs said of her Lady Knights.
Bangs also noted that her club committed numerous errors in the second contest. It also didn't help, she said, that the Lady Knights were unable to return six of Bickleton's serves in game two.
Lady Pirate Coach Tom Whitmore credited his team's efforts last night, especially considering his team was without the services of three starters, out due to illness or injury.
"We really struggled with passing in games one and three," he said. "In game two, though, we passed pretty well and were able to get some great offense."
Bickleton took the early lead in game two, fell behind, then rallied to forge a 25-24 lead. Unfortunately for the Lady Pirates at that point, they lost the serve and Sunnyside Christian rallied for three straight points to eke out the win.
Bangs said in game three the Lady Knights pulled themselves together and started playing the type of volleyball to which they are accustomed. "The girls communicated better and kept themselves moving," Bangs said of the match-deciding 25-9 decision.
Tuesday night's victory upped Sunnyside Christian's league record to 4-2. Overall on the season, including the matches the Lady Knights competed in at the Columbia/Burbank Invitational, Sunnyside Christian is 6-4.
Last night's individual standouts for Sunnyside Christian included Andrea Schutt, who recorded eight kills at the net and five perfect passes; and Melanie Van Wingerden, who successfully put 21-of-22 serves into play and recorded three aces in the process. Van Wingerden also was credited with five kills and six perfect passes.
Also for Sunnyside Christian, Emma Newhouse slammed three kills at the net and had seven perfect passes; setter Abby Bangs tallied 15 assists and was 15-for-17 from the service line; Joleen Van Wingerden had four kills and three defensive digs; and Hilary Bosma was 7-for-8 in serving the ball.
For Bickleton (0-5, 2-6), the leaders at the net included Katelynn Clinton, Jeannette Jarvis and Dede Kibby, who combined for 11 kills. Lady Pirate Phylicia Pearson had two ace serves.
Bickleton's volleyball team is scheduled to host the Lyle Cougars this coming Thursday. Sunnyside Christian is scheduled to play at Liberty Christian in Richland this coming Friday.