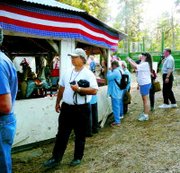 BICKLETON - A community effort to restore Bickleton's carousel was honored on Friday, Sept. 14.
That's when a bus tour of 135 people traveled to the Alder Creek Pioneer Park near Bickleton to witness a plaque presentation by the National Carousel Association to commemorate the restoration effort.
Included in the traveling group were people from all over the U.S., as well as some who were active in restoring the Bickleton carousel horses, such as Leroy and Ruth Ganzer of Sunnyside and Betty Largent of Spokane.
Largent presented the plaque to Cory Wilson, Chairman of the Trustees of the Alder Creek Pioneer Association, in honor of the group's preservation of the historic carousel.
The day included more than a plaque presentation, though, as for the first time in the Bickleton carousel history, the 102-year-old Herschel-Spellman carousel was up and running for an event other than the June Pioneer Picnic.
A dinner was also held in the park which featured an authentic covered wagon and buckboard grill. Altogether, about 175 people attended the event, which lasted about two hours.
The carousel horses were later returned to the carousel museum in Bickleton, which will remain open until Sunday, Sept. 30. On Sunday, admission to the museum will be half price, $2 for adults and $1 for children.
The Old Time Fiddlers from the Goldendale/White Salmon area, will play tunes from noon to 4 p.m. that day.
After closing for the season, the museum will still welcome tour groups wishing to schedule an appointment by calling 509-896-2007, 509-896-2741 or 509-896-2565.
The museum will also be open for Hunter's Dinner Day, Sunday, Oct. 14, from 11 a.m. to 3 p.m. The museum is scheduled to resume its regular hours in April 2008.