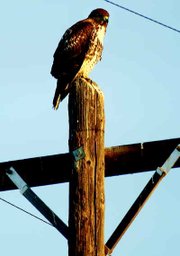 MABTON - A red-tailed hawk found in the Mabton area has tested positive for West Nile virus. It's the first infected dead bird found in Washington state this year.
"When animals such as birds or horses test positive for West Nile, it's an indication that the disease is in the mosquitoes of that area," said Dorothy Tibbetts, manager of the zoonotic disease program at the Washington State Department of Health.
"We're fortunate that the mosquito season is waning with the cooler weather, and that West Nile virus has been limited in Washington this year," Tibbetts added.
Raptors such as hawks, eagles and owls are susceptible to West Nile virus. Crows, jays, magpies and ravens are also more likely than many other birds to die after being infected with the virus.
Tibbetts said after picking up West Nile virus from an infected bird, a mosquito can infect other animals, such as people and horses.
To date this year, eight horses from Yakima County have also tested positive for the disease. There have been no reports of people being infected with the virus within the state this year.
Last year, West Nile virus continued its expansion into new areas of the Pacific Northwest. In Idaho, more than 1,000 people were sickened by West Nile virus infection, and 23 died. Oregon had about 70 human cases. Washington reported it first cases of people infected within the state in 2006.
"Some years may be worse than others, but West Nile virus is here to stay," said Tibbetts.
"We can all do things to guard against West Nile infection," Tibbetts continued. "The key is avoiding mosquito bites."
Some simple measures, said Tibbetts, can reduce the risk of exposure to mosquitoes, such as:
• Wear long-sleeved shirts and long pants when mosquitoes are most active.
• Use an effective mosquito repellent.
• Make sure the screens on all doors and windows are working properly.