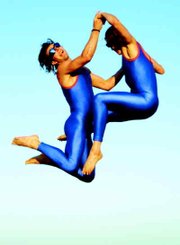 YAKIMA - Laws will be broken at Yakima's Capitol Theatre on Friday, Oct. 12, and Saturday, Oct. 13.
And thousands will cheer the entire time.
It's all part of the "STREB vs. Gravity" extreme action group performance to be featured Oct. 12 and 13 as part of the theater's 2007-08 entertainment season.
The laws to be broken, of course, are the laws of gravity, as New York-based STREB has earned accolades for its acrobatic and risky choreography.
One part physics, one part theatrics and one part suspense equals a recipe for an edge-of-your-seat experience.
"STREB vs. Gravity" kicks off the Capitol's Broadway-themed performance series. It will feature performances with gravity-related themes such as "Orbit", "Crash", "Magnets" and "Ricochet".
Choreographed by "action-architect" Elizabeth Streb, the group's flying, falling and seamless suspension replaces traditional production sets and familiar Broadway song.
Her trademark choreography combines the impact of extreme sports with the poetry and split-second timing of dance. It explodes with the suspense and energy of near-misses and imminent crashes.
STREB has performed at a variety of venues and places, ranging from Paris to New York's Grand Central Station and the Smithsonian Institute in Washington D.C. The group's television appearances have included MTV, Larry King Live on CNN and The Late Show with David Letterman on CBS.
STREB visits Yakima for three performances at the Capitol Theatre, 7:30 p.m. on Oct. 12, as well as 2 p.m. and 7:30 p.m. on Oct. 13.
For ticket information, contact the Capitol Theatre at 1-877-330-ARTS (2787).
Tickets are also available on-line at www.ticketswest.com or www.capitoltheatre.org
&nbsp