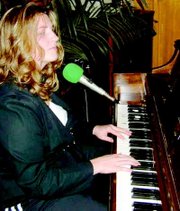 Janie Barbosa has been singing as long as she's been able to make noise.
"My mother teases me about that," she said. "I learned to sing before I learned to talk."
It took her a little bit longer to learn the piano, which she did by ear, until her parents finally got her lessons.
Barbosa is a language arts teacher at Grandview Middle School and on the weekends she plays piano and sings at the Grandview Christian Church. It's something she's done "all her life."
She started playing the piano at the Grandview Church of the Nazarene while still in high school, but recently the folks at the Grandview Christian Church were praying for a pianist and Barbosa heard their calls.
Recently Barbosa visited a worship songwriters workshop in Estes Park, Colo. The workshop was sponsored by Integrity, a major Christian label.
"I learned a lot about the Christian worship industry because I want to learn about the music industry," she said.
She said she was also offered strategies for improving her song writing craft.
Barbosa estimates she has written well over 100 songs.
"I've written some on napkins," she recalled.
She described herself as a real shy kid, who kept everything bottled up inside of her. She would use her music to express herself.
"My main driving force is my love of God and my love of people," she said.
She said the songs she writes are to encourage people through difficult times. She wants to encourage confidence in people to accept who they are.
"My songs try to meet the individual and remind them they are valuable," she explained.
She already has one CD featuring the first four songs she wrote. Her goal is to save up enough money to eventually complete a real project, with 10 or 15 songs and a producer to put everything together.
She'll also be doing a concert in Grandview soon but she said the date hasn't been decided yet.