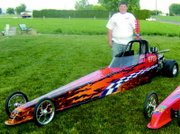 He only won two races and finished as runner-up in one this year, but Sunnyside's Josh Dalrymple earned enough points in this year's NHRA Jr. Dragster season to be named the track champion at Renegade Raceway in Parker.
Dalrymple, who has been racing for five years, clinched the championship Sept. 15. The 13-year-old usually goes 81 mph on the one-eighth mile track.
"I was happy and excited," Dalrymple said when asked how it felt to be named track champion. "I knew it was going to be a close race but I was kind of thinking I had it."
Because he was named track champion, Dalrymple was invited to the NHRA Jr. Dragsters Division 6 championships held in Woodburn, Ore. Sept. 8. Dalrymple competed with 72 other drag racers and made it to the finals.
"We both ran too fast," he said of him and his opponent. "We both broke out but since I was the fastest one to break out the opponent won."
Young dragsters dial in a time they think it will take them to finish. If the drivers beat that time it is called breaking out and the driver loses.
He says he's okay with it and plans on repeating as track champion next year.