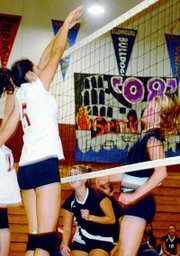 GRANDVIEW - The Grandview High School volleyball team kept its perfect record in matches and games intact last night, Thursday, in a 3-0 sweep of visiting Othello.
After cruising to a 25-5 win in the first game, the Lady Greyhounds had their toughest fight of the season before pulling out a 25-22 victory in game two. Grandview got back on track with a 25-12 game three win to seal the match victory.
"We probably could have played a little bit better," Grandview Coach John LaFever said of his team's struggle to win game two. He noted that Othello didn't employ any new tactics in the second game. "It was the same two teams," LaFever noted. "We just weren't quite as serious as we could have been."
Durham said it looked like Grandview had the game wrapped up, leading 23-17, before the Huskies rallied for five consecutive points to tighten things up.
"We didn't finish the game very well," he observed.
Kealey Johnston led Grandview with a double-double, 10 kills and 12 digs. Kinzi Poteet had 11 kills for the Lady Greyhounds, while Katie Veloz and Sydney Mottice had 16 and 10 digs, respectively.
Vanessa Medina aided the Grandview attack with 34 assists.
Grandview (6-0, 7-0) travels to Longview this weekend for the Mark Morris Invite. Durham said his team will face a State 2A tourney team from last year in Black Rock, located near Olympia.
The timing for the tourney couldn't be better, says LaFever, coming during the middle of the Lady Greyhounds' league campaign.
Especially after last night's near collapse against Othello in game two.
"We need to sharpen up a little bit," the coach said of the invite, which will feature three mini-matches in pool play leading up to the tourney finals. "It's a good program."
Durham said fine tuning his club's play will be important heading into next Tuesday's key home match against league opponent Ellensburg.
"We have a big match on Tuesday," he said. "We better be ready because Ellensburg is a good team."