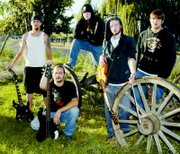 Formed in March of 2006, the band Diminished has quietly built a following and most recently took the top prize at a "battle of the bands" contest held in the Tri-Cities.
Diminished consists of Eddie Morrow (guitar), John DeLeon (bass), Cody Morrow (drums), Abe Gibson (guitar) and Cory Beghtol (vocals). They all hail from the Sunnyside and Grandview areas.
All members have been playing music for years and they all knew about each other from friends or acquaintances. Gibson and DeLeon actually learned to play at the same time back in 1997 but Gibson only recently joined the ranks of Diminished.
The band started when according to DeLeon, "Eddie was trying to get ahold of me to jam with him."
That started to gel but the current drummer they had wasn't quite "working out." Enter Morrow and the band started jamming. Soon they needed a front man and that's where Beghtol came in.
The band estimates they have about 15 original songs and are in the process of writing more. It was the new guy (Gibson) that really expanded the band's sound and what they can do.
"We all pretty much share the song writing duties," Eddie Morrow said.
Two weeks ago, when the band won the "battle of the bands", they earned $1,000. That money, the band says, will go back into equipment.
They tour as much as possible. They've been to Seattle, Spokane and the Tri-Cities. The band is scheduled to play Hempfest Oct. 6 in Spokane.
Their sound is metal with melody, with each band member bringing different influences into their music.
For instance, DeLeon is big into jazz and Gibson likes classical blues.
Why do these five twenty-somethings do it.
"It's the only thing I know I can do that makes sense," Gibson said. Cody Morrow agrees with that.
Eddie Morrow said he's been in a band since he was a little kid.
"I grew up around it," he added.
DeLeon says he enjoys what he does but would eventually like to get some more education and Beghtol said he's been singing since he was five-years-old.
Diminished's fan base stretches from Yakima to the Tri-Cities.
Fans can learn more about this band from their myspace page by going to www.myspace.com/diminished06.