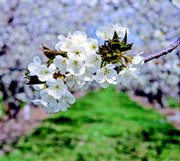 The Lower Yakima Valley has experienced extremely cold temperatures in recent nights, and those sub-freezing temps have cherry growers scrambling to keep the buds from freezing.
Washington State Fruit Commission Promotion Director Andrew Willis said, "The growers have a number of different strategies (to fight the cold temperatures)."
He said some growers are utilizing irrigation and running sprinklers to create a frozen layer of protection, keeping the buds on trees at 32 degrees.
Grandview cherry grower Don Olmstead said irrigation is the least expensive method of preventing damage to cherry crops, adding it has been a relief to growers that the irrigation water is available.
Olmstead said the cold weather has created a propane shortage, stating the demand for the popular fuel has increased in wind machine usage.
Other heating elements being utilized by area growers include smudge pots.
Olmstead said he turned on his wind machines as early as 10:45 p.m. this past Sunday night to protect his crops. "That is the earliest I can ever remember turning them on," he commented.
"This weather has been unbelievably cold...it's the strangest I have seen with snow and freezing temperatures," Olmstead noted.
He said he is pleasantly surprised, however, that the damage to his crops is less than he would have expected.
Olmstead stated he is not certain if the lack of damage can be attributed to the trees being conditioned or diligence on his behalf.
"Weather like this, however, can become expensive," he said, stating that the cost of running wind machines and fuel to monitor the wind machines is high.
Olmstead said some growers have auto-start wind machines, however most wind machine owners have to drive to each area of their orchards to monitor temperatures.
He said all his orchards are within a two-mile radius of his home. But, he can drive 80 miles or more in a night to monitor the 130 acres of cherries he owns.
Both Olmstead and Willis said the growers are looking forward to warmer temperatures that are forecast for later this week.