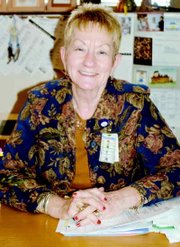 After about eight years as Sunnyside Community Hospital's director of nursing, Linda Garner is gearing up for retirement come this Friday.
Garner joined the staff at the hospital as an interim director in October 1999. By the first of the following year, she was hired on permanently.
"There was no one here and there was a need," said Garner. "I took on the position and then formally applied for the position."
Garner was born and raised in Iowa, where she obtained her nursing degree in 1963. After working in Iowa and California, Garner worked at Kennewick General Hospital from 1979 to 1996. She then joined the staff at Walla Walla General until coming to Sunnyisde in 1999.
She said that if she would have been asked to serve in an administrative position when she was a young nurse, her response would have been, "Are you kidding me? I loved patient care." But eventually, she saw becoming a nursing leader as an opportunity.
"I 've always felt that if I take good care of the nurses, they'll take good care of the patients," she said.
She first began working administratively in California.
"I like to make change and (the administration level) is where you make change."
Garner said there have been a few changes since she joined the staff at Sunnyside Community Hospital, like recruiting nurses from the Philippines, creating educational plans for every area of nursing, as well as successful licensing surveys.
"I think I've allowed for growth and opportunities in the nursing area and brought on things to make patients and staff more safe." She's also been there to see a medical record change from paper to electronic.
One thing that has been important to her, and to Hospital CEO Jon Smiley, is improving customer service. "We've implemented standards of performance. It's just sort of the Golden Rule," she said. "We all sign it every year."
Her administrative mantra has been, "You don't necessarily do it all yourself. You help people grow."
During her retirement, Garner will spend a good deal of time in the lawn and garden at the home she and her husband recently built. While the home was being built, she and her husband lived in a fifth wheel parked in a barn for five years. This past January, they were finally able to move in, although her retired husband is still putting finishing touches on the home, like trim work.
Now, she says, she has to sort through boxes she packed five years ago and try to remember why she saved so many items.
Her husband's ready for her to retire, she said. It will allow for more travel, and even spontaneous day trips.
Her coming plans include attending a wedding in the midwest, a canoe trip in Canada and a late summer jaunt to Ireland.
But leaving Sunnyside Community Hospital isn't a happy thing for Garner. "It's like a sad-happy thing...This is a great place to work and it does make me sad to leave them.
"I really appreciate the support I've had from everybody. No one person makes things happen here, it's a group effort.