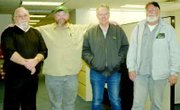 Four Embarq employees with a combined total of more than 150 years working for the communications company say they will miss the people they work with.
According to Loren Belton, the company has had five name changes since he began working from the Sunnyside hub, which serves Yakima Valley from Prosser to Wapato and Mattawa to Bickleton.
Belton retired in December and said he already misses seeing his fellow employees.
"I miss the interaction with the employees because it's a small, tight-knit group," he said.
Dean Clark, Butch Mallady and John Kaiser all agreed that they feel the group at Sunnyside's Embarq central office is much like an extended family.
Clark began his career more than 41 years ago as a lineman. Mallady was a contractor in the early 70's and began his career when the company was known as United Telecommunications and Kaiser was first employed in the company's warehouse 41 years ago. Belton worked for the company for 42 years, beginning his career under the Oregon-Washington Telephone Company umbrella.
He said the company changed from being a family-owned operation to a corporate company in 1967.
The men all said they have enjoyed working with one another and feel the company treated them well.
"That is why I remained with the company for so long," said Clark.
Each of the men have plans for their retirement. Belton is already serving the community of Toppenish as its mayor.
He said he didn't want to be idle. "I have always felt a person should not commit to retirement until they can say, 'I'm going to retire and then...'"
Mallady says he plans to improve his golf game, attend car shows and ride his Harley Davidson motorcycle.
Kaiser seconded the motorcycle rides, stating that he will travel with his wife once she retires at the end of the school year.
Traveling and spending time with his grandchildren are the top priorities of Clark.
Each of the men said they have seen a great number of technological advances in the communications industry and are proud to have been part of it.
But, most of all they feel they will miss their "second home."
"You can't be with a group of people as long as I have without developing a close bond," said Clark.