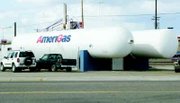 Although there isn't a national shortage of propane, the recent cold weather has seriously depleted the Lower Valley's propane supply.
Tony Christensen, vice president of R.E. Powell Distributing Company, said last week farmers used wind machines pretty heavily to keep their fruit tree buds from freezing.
When these machines are run night after night throughout the valley, propane suppliers have a tough time keeping up with their bulk propane deliveries.
"This happens every few years," Christensen said of the propane crunch. "This is one of the most severe seasons we've seen in years. We've had several days of cold weather back-to-back."
He said there isn't enough storage in the Yakima Valley to handle night after night of wind machine use and there isn't enough trucks to haul in the propane to replenish the stocks.
At R.E. Powell Distribution Company the propane has not run out but Christensen said he's heard of other Valley propane suppliers running low or completely out. He said he's been able to take care of his customers, plus take on some new ones.
"We've been working the phone pretty hard to maintain our supply," he said.
Tonight (Tuesday) is supposed to be critical, according to Christensen. After that the Lower Valley should see a warming trend, which will ease the high demand for propane.
It is only bulk propane that is feeling the crunch right now. Christensen said there is still plenty of propane for barbecues and trailer tanks.