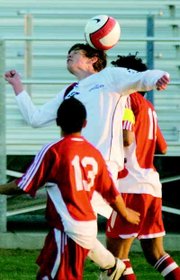 After two straight losses in the Columbia Basin League the Sunnyside High School soccer team viewed last night's game with Eastmont as a must-win affair.
Sunnyside Coach Juan Pineda said he wanted his team competing at the level they had been playing at before the two losses to Kamiakin and Southridge.
So he did the only thing he thought was right, he sat six of his starters and put four freshmen on the offensive front.
His reasoning was that his starters weren't playing like they were hungry. Answer? Starve them.
With inexperienced players on the pitch the Grizzlies did well enough but Pineda said the Wildcats were playing better. In the 16th minute of play Eastmont grabbed the lead on a Marco Solorio goal.
Last year's league MVP, Eastmont's Javier Tovar, headed a pass to Solorio right in front of the Sunnyside goal to give him an easy score.
In the second half of play Pineda had starved his starters enough and unleashed them against Eastmont.
"They played the best half of the season," he said. "They found out if they listen to me and play at full speed, no one can stop them."
Sunnyside's defense was able to shut down the Wildcats in the second half and the Grizzly offense created several opportunities for themselves to score. It was a penalty, however, that gave them the equalizer.
In the 58th minute of play Sunnyside's Nick Steckler served Jesus Solis a pass in front of the Eastmont goal. The keeper came out and took Solis down hard and Sunnyside was awarded a penalty kick.
Miguel Lugo did the honors for Sunnyside and tied the score at 1-1.
Both sides played out the rest of regulation and two overtime periods without scoring, setting up a shootout.
Both teams hit their first two attempts but missed on their third opportunity. With the shootout score at 2-2, Brian Galvan gave Sunnyside a 3-2 lead. After Eastmont scored the equalizer, Luis Perez put Sunnyside up 4-3 and then his brother, Joaquin, blocked an attempt by a Wildcat player and Sunnyside walked away with a 2-1 win.
Sunnyside finished the night with 13 shots on goal. Eastmont had eight. Perez saved six shots for Sunnyside and Eastmont's keeper, Jose Gladin, saved nine shots.
"It was a tough decision to play with the younger guys but sometimes you have to take those risks to fix your team," Pineda said. "In the end it brought the kids to a new dimension."
A scheduled game with Davis High School for this Saturday has been canceled. The Grizzlies will get back on the pitch next Tuesday, April 8, when they travel to take on West Valley.