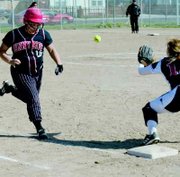 Mental errors and walks proved to be the downfall for the Sunnyside High School softball team yesterday (Tuesday.)
The 3A Lady Grizzlies dropped two non-league games to the 4A Eisenhower Cadets, 12-3 and 16-1.
In the first game Sunnyside stayed with the visiting Cadets for five innings before losing the game in the last two innings.
Down 2-0 after the first inning, Sunnyside stormed back in the second frame to score three runs and take the lead.
Sam Perales was awarded a base on balls to start things out for the Grizzlies and then Ruby Herrera singled up the middle. A Savanna Martinez hit brought home both Perales and Herrera, when the Cadets second basemen bobbled the ball. Martinez was able to work her way to third base and then scored on a passed ball.
That would be all the offense the Lady Grizzlies would muster but Sunnyside's defense held tough, allowing one run in the third but shutting Eisenhower out in the fourth and fifth innings.
Erica Sabedra pitched five and two-thirds innings for Sunnyside. In the sixth innings she started to tire and Sunnyside Coach Ralph Mendoza sent in Leslie Schilperoort to relieve her.
The Cadets got six hits off Schilperoort and scored three runs in the sixth and six in the seventh to put the game away.
Kassie Luther went 1-for-4 in the first game for Sunnyside. Teammates Yvette Garza and Herrera were 1-for-3 and Kasi Guillen was 1-for-2.
In the second game of the doubleheader Sunnyside managed to score one run in the first inning and then put up goose eggs for the remaining four innings.
Trisha Gaethle, Sabedra and Schilperoort took shifts on the mound for Sunnyside. The three combined to give up eight hits but walked 13 batters. That and four errors by the Grizzlies allowed the Cadets to score five runs in the first, three in the second, five in the third, one in the fourth and two in the fifth.
Sunnyside's offense was able to connect with the ball but couldn't bring runners around to home. Sunnyside had eight hits in the ball game.
Luther was 3-for-3 with one run scored. Victoria Ramos was 2-for-2 with an RBI. Perales was 1-for-1, and Melissa Amaro and Celeste Salinas were both 1-for-2.
"There were lots of little mental errors," Sunnyside Coach Ralph Mendoza said. "That hurt us. Our mental aspect of the game was not there."
Mendoza said his biggest area of concern is his pitching and the numerous walks his team is giving up.
"We hit with them," he said. "Our pitching is where we need to focus."
Sunnyside (0-4, 0-7) will host Wenatchee next Tuesday, April 8, for a doubleheader starting at 2:30 p.m.