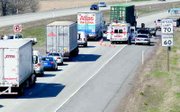 GRANGER - 52-year-old Louis Vijil of Mabton was killed yesterday as the result of a two-vehicle accident on I-82, approximately a quarter mile east of Granger.
Vijil, the driver of a 1994 Oldsmobile, had come to a stop in the westbound passing lane. A 2001 Ford Econo van, driven by 26-year-old Stephen B. Penhallegon of Yakima, started to pass a semi-truck and struck the stopped Oldsmobile in the passing lane.
Vijil's four-door sedan burst into flames as a result of the collision. The Mabton man was declared dead at the scene of the accident, which occurred at about 11:30 a.m. Wednesday morning.
Penhallegon, said WSP troopers, escaped serious injury. His Ford van sustained approximately $3,000 worth of damage. Vijil's Oldsmobile was destroyed.
A passenger in Vijil's car, 41-year-old Noel D. Monsivais of Sacramento, Calif., survived the accident but was taken to the hospital in Toppenish to be treated for his injuries.
All three men involved in the accident, said Washington State Patrol troopers, were wearing safety restraints.
The cause of the accident is currently under investigation.