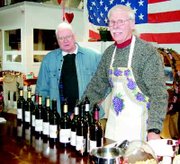 Wineries throughout the Lower Yakima Valley are gearing up for spring events, including those along the Rattlesnake Hills Trail.
During the weekends of April 18-20 and April 25-27 plenty of fun and wine tasting can be experienced at these wineries.
April 18-20 is the weekend of pre-spring barrel tasting. Wineries will roll out their barrels for an intimate event featuring new wine releases, conversation with winemakers and wine specials.
Smaller crowds can be experienced during this event, allowing a quieter experience, and tickets won't be necessary.
Tefft Cellars near Outlook will host a vintage wine dinner Saturday, April 19, at the cost of $35 per person. The dinner will feature Spanish tapas and paella to accompany some of the winery's older vintage wines. It will be held from 5 to 8 p.m. by reservation. Call 888-549-7244 for reservations.
The weekend of April 25-27 is Spring Barrel Tasting weekend. Live bands, barbecues and art will accompany events at local wineries.
Spring Barrel Tasting highlights include:
Bonair Winery has planned a sampling of its 2006 Cabernet Sauvignon from Rattlesnake Hills Morrison Vineyard, one of the area's oldest vineyards.
Claar Cellars has planned the tasting of it Fouled Anchor Port for passport ticket holders, Angel's Posole will be the featured soup to accompany a Hungarian Oak Estate Rose de Franc and Riesling at Eaton Hills Winery, and Horizon's Edge will feature a live band from 12 to 3 p.m. on Saturday, April 26.
Horizon's Edge will also have on-hand its Vanilla Port-style dessert wine with free food and wine matching wheels for passport ticket holders purchasing a case of wine.
Malbec Port and live music will be the highlight at Maison de Padgett Winery. Music will be featured from 12 to 3 p.m. Saturday, April 26.
Masset Winery will feature its Masset art project as a complement to relaxing with its new Chardonnay and dry Rose, and Paradisos del Sol Winery will provide its Lemberger, Cabernet Sauvignon, Malbec, Tempranillo and Sangiovese wines. There will also be entertainment from "The Man in the Wild Pants" and Yakima's Dave Ettl at Paradisos del Sol.
Sunnyside's Steppe Cellars will provide a sampling of its 2007 Malbec along with a picnic feast prepared by Guerra's Gourmet. Local asparagus, grilled sausages, bread and a salad will be provided on Saturday.
Two Mountain Winery will feature the band "Distant Satellite" from 4 to 6 p.m. Saturday. Mariano's Tacos Uruapan will be available for purchase.
More information can be obtained by visiting www.rattlesnakehills.com, emailing info @rattlesnakehills.com or calling 888-375-RHWT (7498).