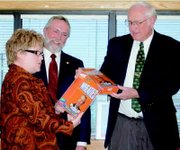 It was a mixed message from local state legislators this morning, who spoke during a breakfast meeting of the Sunnyside Republican Club.
Less than a month removed from the 2008 legislative session, Senator Jim Honeyford, R-Sunnyside, spoke first and noted that Republicans, outnumbered two-to-one in the state house, were still able to have success in defeating or de-clawing some of the bills proposed by Democrats.
He said some legislation would have added motor vehicle taxes based on the size of the engine or gas mileage. Those ideas were shot down, Honeyford smiled, adding that some bills which made it through were amended to reduce their impact.
An example is a Democrat-sponsored bill that would have banned certain materials from toys that are considered hazardous if the toy is put in the child's mouth. Honeyford said lawmakers heard from business owners that toy makers would go out of business in this state, or stop selling toys here altogether. "I called it the Grinch Bill," Honeyford said. He added that Republicans were able to add nine amendments to the bill so that bicycles and sporting good items would be exempt. "You don't put a bicycle in your mouth!" he laughed.
Rep. Dan Newhouse (R-Sunnyside) was next and he focused his comments on Republican-sponsored anti-gang legislation and an eluding bill that were passed into law.
Newhouse praised the city of Sunnyside's leadership in passing the state's first-ever anti-gang law. With the state law now in play, cities like Sunnyside with anti-gang legislation will have an easier time enforcing the law.
"The legislature does listen to the people," Newhouse said of concerns heard around the state about criminal gangs.
Newhouse also noted that legislation was passed appropriating funds for vocational centers, like the one the Sunnyside School District is planning. There is also now money earmarked for the school district to assist with the alternative high school program.
Rep. Bruce Chandler (R-Granger) wrapped up the legislative presentation with comments on the state budget.
He didn't have much positive news on the budget front, noting the Democratic-led legislature is crafting expenditures twice as fast as revenues are coming in.
Chandler also sounded a warning that in the next 18 months wage earners in this state will likely start seeing money deducted from their paychecks to fund a state-mandated paid family leave bill that provides $250 a week for up to five weeks for people who take off work for family matters, like bonding with a newborn child. The leave takes effect October 2009.
A Supreme Court ruling favoring a top-two primary in Washington state also met Chandler's displeasure, as he noted third parties will virtually have no chance of running in the general election. Also, any non-election year vacancies in a legislative post will now be filled by appointment of the governor, instead of county commissioners deciding from candidates presented by the outgoing office holder's political party.
Chandler noted that the state legislature has yet to come to terms with health care and education funding issues. He said Governor Christine Gregoire commissioned her 16th study since taking office to review health care funding. Each study, Chandler added, costs about $1 million.
John Fannin/Daily Sun News
More like this story