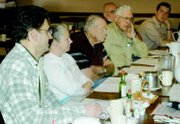 PROSSER - Dr. Markus Keller was the featured guest speaker at the Grape Fieldman's meeting held at The Barn Restaurant in Prosser yesterday morning (Thursday).
Keller discussed a recently established Concord grape research block planted at the WSU Extension center.
Eight acres of Concord grapes were planted in 2003. Keller said that scientists had expected to start experimenting in 2008, but were able to do some research last year.
Scientists planted the grapes at varying vine spacing of three, six eight and nine feet.
Research so far indicates that the three-foot vine spacing isn't faring as well as the other spacings.
Keller said that the initial thought was that if the plants were spaced closer together, there would be less pruning and more fruit per acre. That hasn't been the case, so far.
In 2007, the three-foot spacings had less tonnage per acre, less clusters per vine, less clusters per foot and lower cluster weight.
In terms of fruit composition, the three-foot vine spacing plants had a higher pH level, most likely due to higher levels of potassium.
Researchers also planted Sunbelt grapes as a possible alternative to Concord grapes. Keller said that the Sunbelt grapes haven't cropped well for two years in a row. "They look great, but they have a problem cropping heavily," he said.
Sunbelts in the research block yielded 4.3 tons per acre in 2007 versus 12.6 from Concords. They averaged about 70 clusters per vine versus 173 in Concords.
In terms of fruit composition, Sunbelts were at 21.8 brix, versus 16.6 brix from the Concord grapes.
"We think Sunbelts might be an alternative to Concords to improve color, but they don't come close to cropping like a Concord," Keller said.
Keller reminded everyone that the studies are very new and that research will continue for the next several years. More time and different management practices may change results.
Those interested in receiving grape fieldman's meeting notices are encouraged to call 509-786-5609.