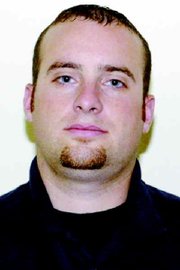 GRANDVIEW - When Kevin Glasenapp was growing up, he knew he wanted to be either a fireman or a policeman. Now, at 22-years-old, Glasenapp's got the best of both worlds.
Glasenapp was named the top responder at a recent Grandview Fire Department awards banquet. According to Grandview Fire Chief Pat Mason, Glasenapp responded to 198 of 609 total emergency calls to the department.
Says Mason, "I appreciate (that he's) willing to make that kind of commitment, to drop whatever he's doing and come at a moment's notice that many times in one year."
Glasenapp says, "It's one of those things that when the tone goes off, I don't even think about it, I just get up and go."
Things changed in January, when Glasenapp headed off to police academy, where he attends classes Mondays through Fridays on the west side of the mountains. He's expected to graduate this June. After that, he'll work for the Grandview Police Department as a commissioned officer.
Glasenapp began his firefighting career as a volunteer for the county. As soon as his 18th birthday rolled around, he joined Grandview's volunteer roster. Glasenapp was top responder in 2004 and 2005.
Prior to attending police academy, Glasenapp worked as a corrections officer for the Grandview Police Department Mondays through Fridays from 9 to 5.
He expects all that to change when he returns in June.
"It's going to be harder (to respond to calls) because I just won't have as much free time.
"But I'll still definitely make as many calls as I can," he said.
As a police officer, he'll be working 10 hours a day on rotating shifts.
As a volunteer firefighter for Grandview, it's mandatory to attend fire drills every Wednesday night. That, too, he said, will pose a problem when he's working swing shift or graveyard. "I'll have to make them up," he said.
There's a friendly banter and plenty of teasing between firefighters and police officers. "When I'm a police officer, I (taunt) firefighters. When I'm a firefighter, I make fun of police officers.
"Both agencies get along really well here in Grandview. That's what's fun about it," Glasenapp said.