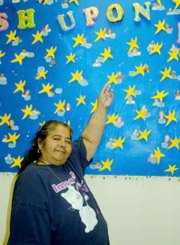 If you had just one wish, what would it be?
That question was posed to all patients, physicians and staff at DaVita's Mt. Adams Kidney Center in Sunnyside.
"We took (everybody's) picture and had them put down their favorite color, favorite television show, favorite animal and if they had one wish, what would it be," explained facility administrator Rebecka Dobie. "We (had) to tell them beforehand so they could get all dolled up."
The resulting wall of fame, aptly titled "Wish upon a star," was actually a challenge from DaVita corporate, explained Dobie. The purpose in creating the wall of fame is to get to know each other on a different level, as opposed to just patient and caregiver.
It worked. Dobie said it was a morale booster for teammates (staff) and a spirit booster for those seeking treatment at the center.
"You don't truly know your patients until you ask these intimate questions," said Dobie.
What she found the most surprising was the wishes themselves. "We figured most of them would say a (new) kidney or better health," she said. There were a few wishes for better health, but not so overall.
Wishes ranged from humorous to touching, like "to meet (actor) Steven Segal" and "for our family to all get together for a holiday."
The wall of fame is an actual contest for DaVita centers. The regional winner will be given $200 to spend at the DaVita company store. The best decorated wall of fame in the division will be given $500.
The Sunnyside center recently learned they'd won a customer satisfaction competition and were given $250 to donate to a community organization of their choice. Dobie said the clinic donated the funds to the Victory wrestling program in Sunnyside.
Dobie said of her staff, "This team has come a long way and they're only getting better."