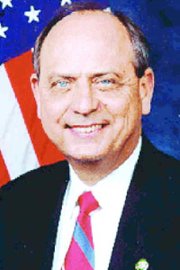 PASCO - Congressman Doc Hastings at last Friday's Benton-Franklin County Republican Party Lincoln Day Dinner announced he will seek re-election to the U.S. House of Representatives.
A seven-term congressman, Hastings (R-Pasco) represents Central Washington's Fourth Congressional District.
In announcing his campaign for re-election, Hastings listed several of his top priorities in Congress. Those include protecting Northwest dams, providing more water for farmers and towns, supporting fair trade to open new markets for local fruit and farm products, and cleaning up Hanford.
He told the Republican faithful in Pasco last Friday that "...the interests of Central Washington always come first for me."
Winning his seventh trip to Washington D.C. back in 2006 with 60 percent of the vote, Hastings lives in Pasco with his wife Claire. They have three children. Before being elected to Congress, Hastings owned and operated a small business.
Hastings said last Friday that one of the best parts of his job is helping literally thousands of local residents fix challenges they've had in dealing with the federal government.
"These opportunities to make a real difference in people's lives mean a lot to me," he said.
Hastings also defended the political party he represents. "The interests of Central Washington always come first for me, but I'm also proud to say I am a Republican...because we're the party of personal freedom and economic opportunity."
The popular Central Washington lawmaker noted, too, that America needs to secure its borders, end illegal immigration and improve immigration laws "...so that criminals and drug dealers are kept out of our country." He said the outdated, unenforceable guest-worker program must be replaced with an enforceable system that makes the nation more secure while meeting the needs of Central Washington's agriculture-dependent economy.
"Citizens are right to expect the government to have control over immigration and to decide who can come in, what rules they must follow while they're here, when they must leave and who is never let in," he said in Friday's Lincoln Day Dinner address.