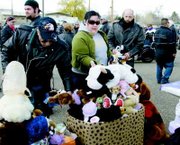 Sunnyside residents might have got a shock this past Sunday when about 60 motorcyclists rolled into town with stuffed teddy bears strapped to their handlebars.
The month of April is sexual assault month. Rosalinda Alvarez, a domestic violence counselor at Lower Valley Crisis and Support Services, said this was the first year they have been adopted by the bikers.
Lower Valley Riders President Don Burnes said this is the sixth annual Care Bear Drive the Lower Valley Riders have participated in.
He explained the club collects stuffed animals every year from businesses and private donors.
"It's a community thing now," Burnes said of the project started by the Zillah based club.
At first, the Lower Valley Riders would give the stuffed animals to police departments. They then started giving them out to fire departments and when Burnes heard about the things being done at Lower Valley Crisis and Support Services, it was decided to give that agency some animals.
So yesterday, with animals attached to the bikes, the Lower Valley Riders made their way to Sunnyside. They also brought along a pick-up and two cars loaded with the stuffed animals.
"We use the animals when we are called by police or the hospital to deal with a family that is in a sexual assault or domestic violence situation," Alvarez said. "We bring the toys to the kids to help them through it."
Animals are also kept at the Wiley House for children that show up there.
The bikers were met by the Miss Cinco de Mayo princesses and the current candidates for the 2008-09 Miss Cinco de Mayo Pageant. Bottles of water and cookies were handed out in appreciation.
"We're really excited about this," Alvarez said of the bikers giving away the stuffed animals.